I've been putting aside these neat buildings for quite some time because I like them. Actually, years ago I got a bunch of Creglinger buildings and was amazed at the quality. I sold most of those becasue they are expensive, and started keeping Faller buildings.
From what I read online the Faller company started making buildings in 1946, and sold assembled buildings through 1959. The first use of plastics was for small detail parts like doors and windows in 1953. By 1960 the wood was gone.
I think most or maybe even all of my buildings are from the 1952-60 period.
I found Vintage Faller Catalogs online here
Here's my buildings in order by Faller catalog number. . .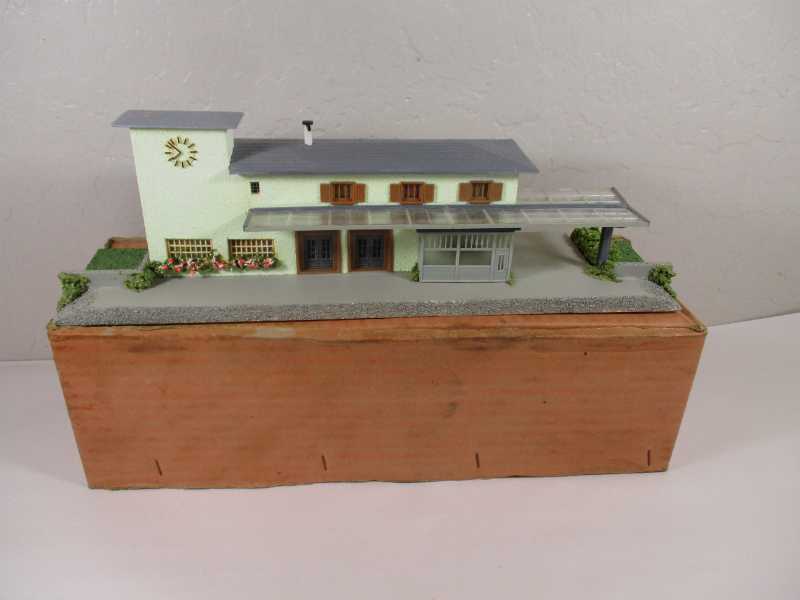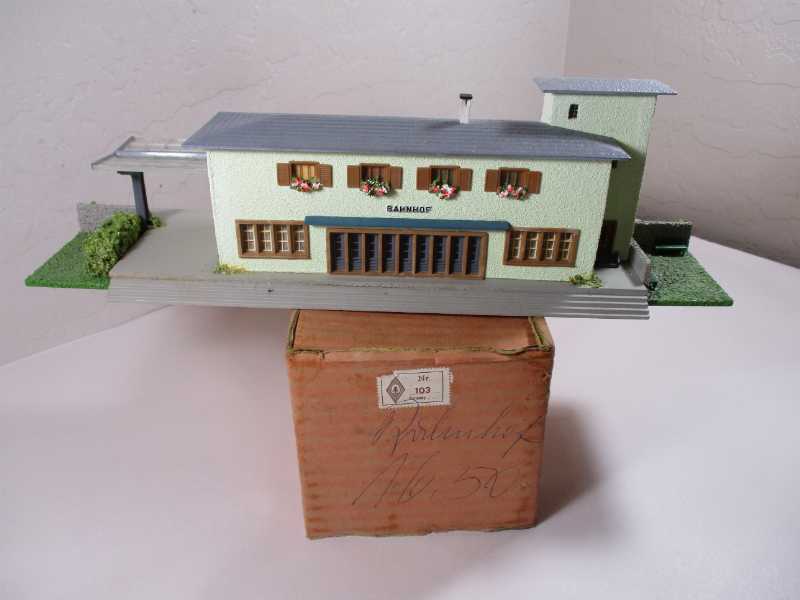 Faller 103 Train Station. This is my biggest Faller building. This has plastic awnings, windows and doors along with the newstand on the train side. The balance is wood. It's sitting on it's original box. The 1954 catalog shows it just like this.
Faller 138 Waiting Platform. I found this in the 1955 catalog. It's all wood but for the green benches. A neat detail item that is easily overlooked on the layout. This is shown below in the photo of the 233 Windmill.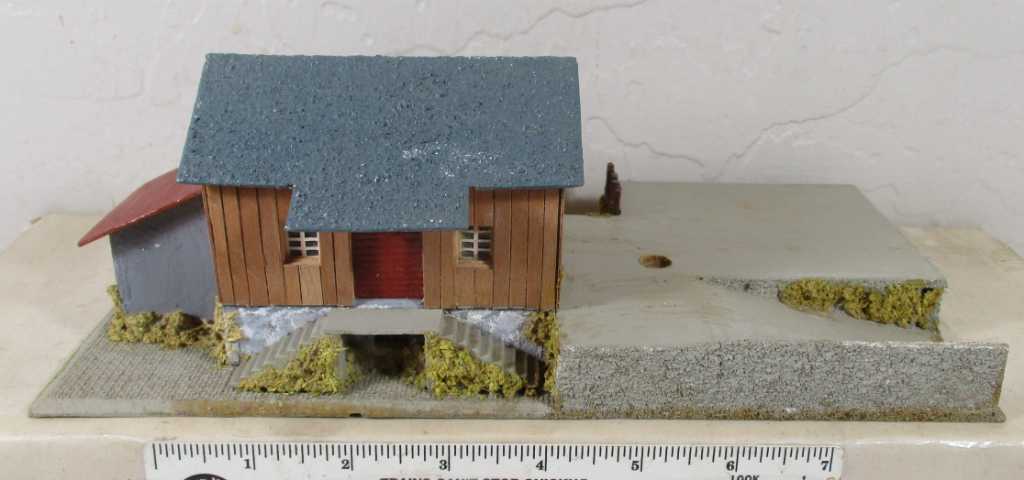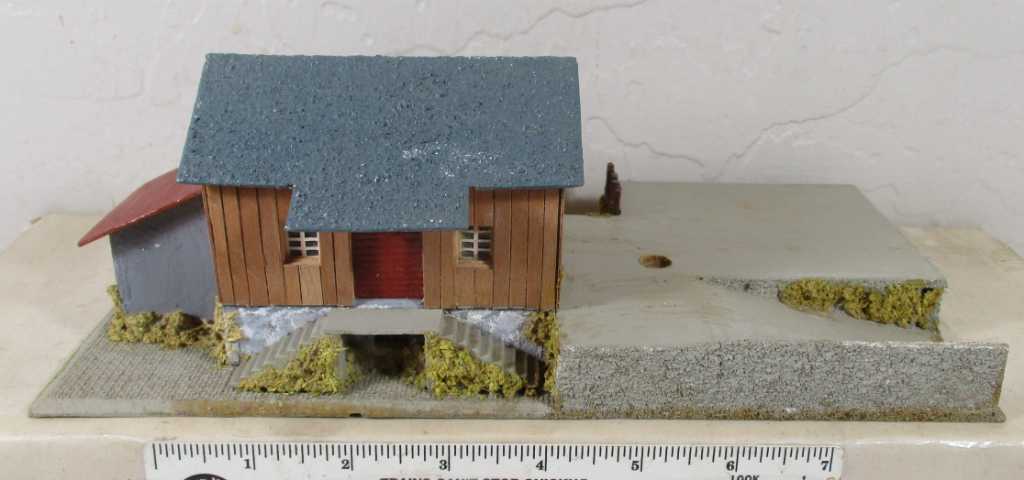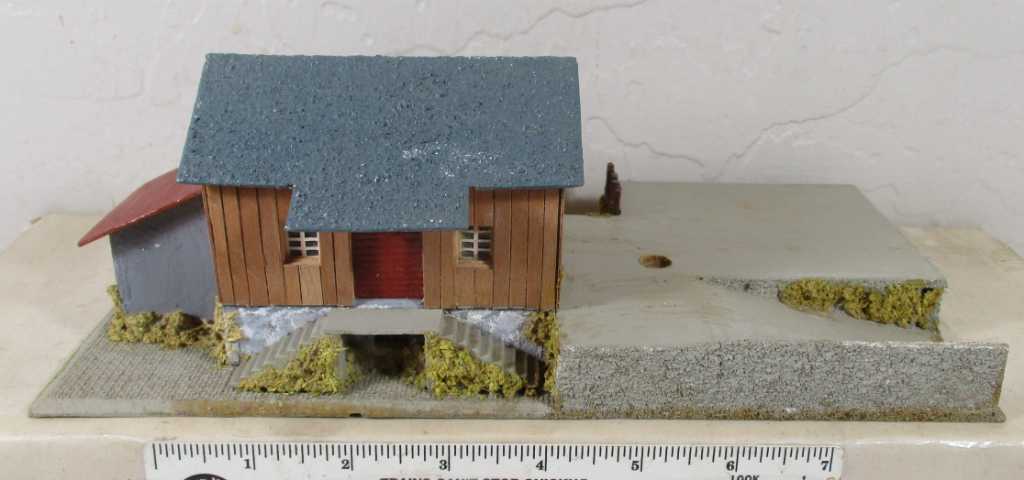 Faller 158 Freight Station rear view
Here's a neat Faller Freight station. This has no plastic details on it. Someone added a hole for a screw on the deck area which I'll cover with a small box or barrel. You can put this next to a siding.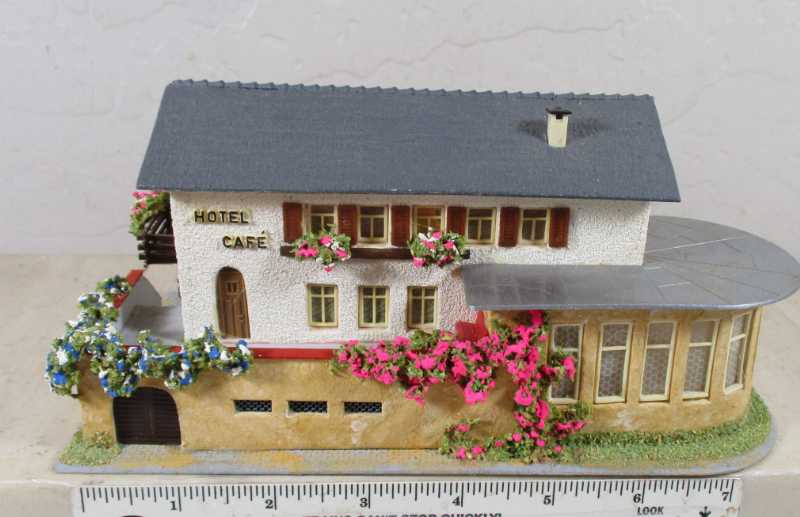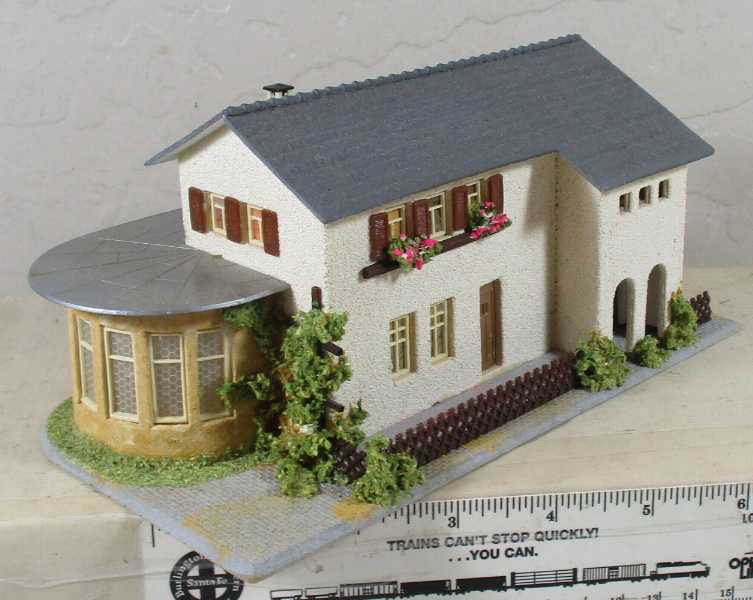 Faller 219 Hotel Cafe. This is wood with plastic windows, shutters, doors, fence and round roof.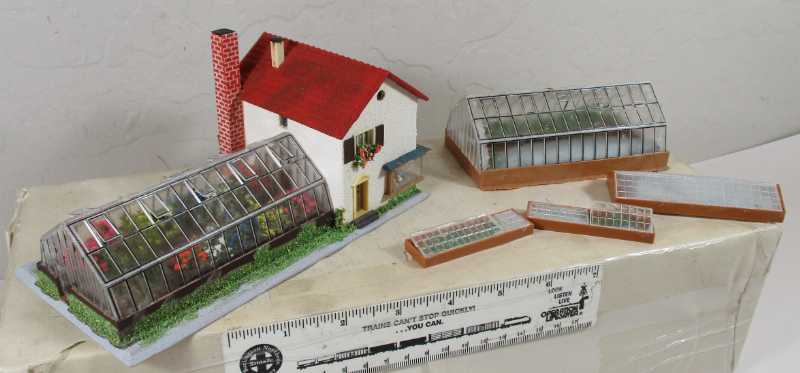 Faller 220 Flower shop with attached greenhouse and freestanding beds. I think this building was available with and without the attached greenhouse and withor without the seperate planting beds. Here's a catalog page from 1955.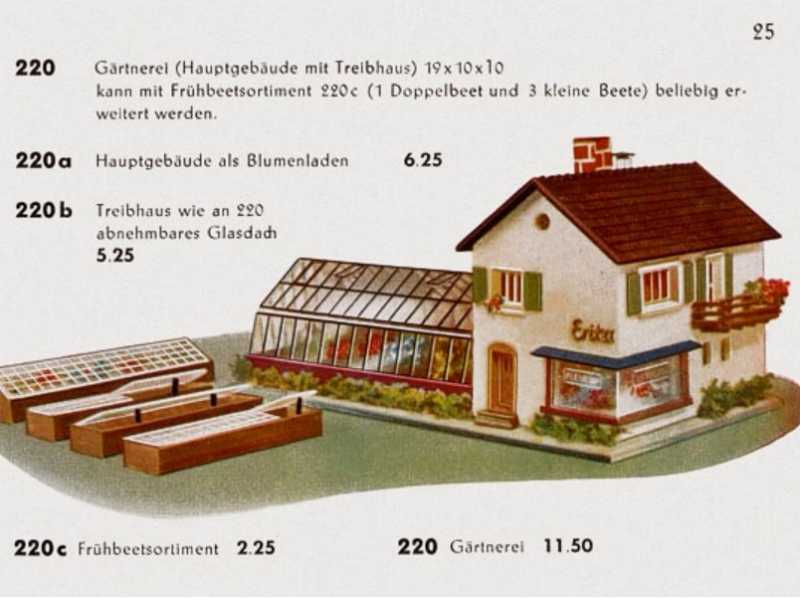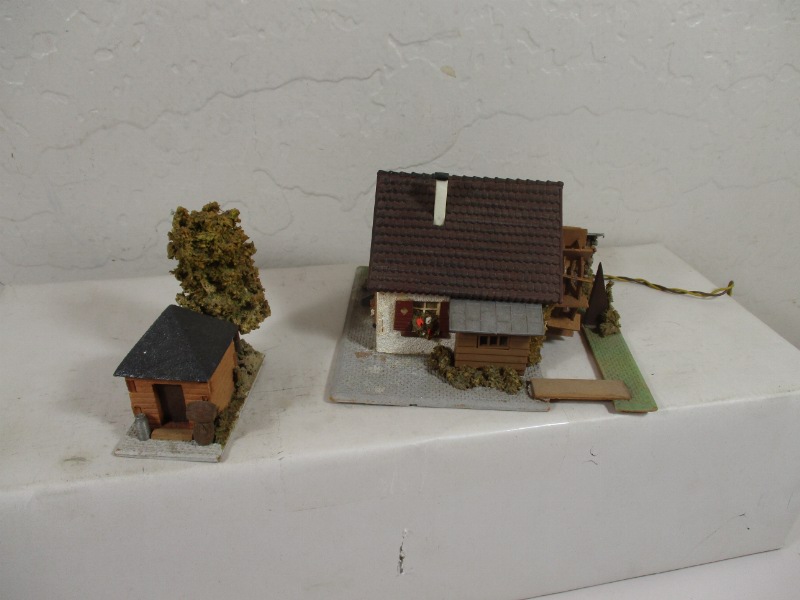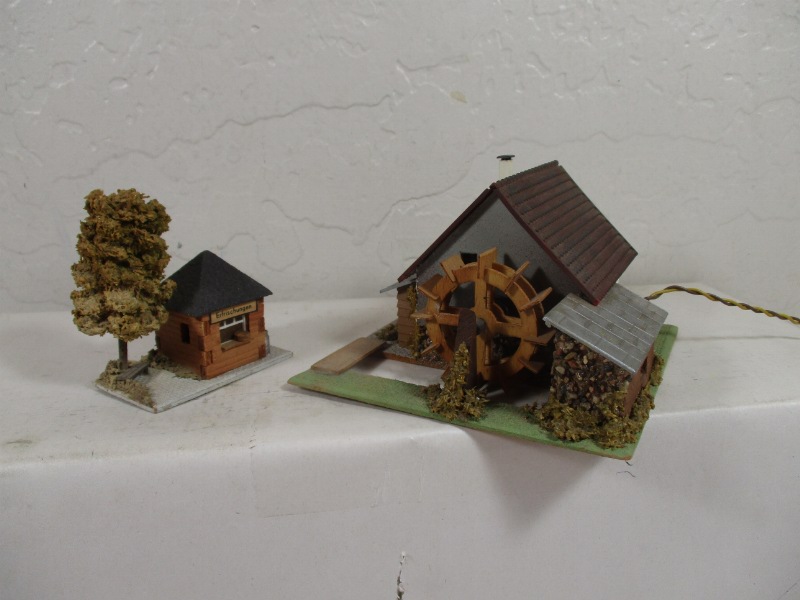 The Faller 231 Grist Mill is wood with plastic roofs, plastic addition on downstream side, and plastic steps. The mill is motorized and runs on 12-16V. Different versions or the mill are shown in Faller catalogs through 1960 when a version matching the one shown here is listed. This might be missing a fence or handrail along the walkway over the waterway.
The Creglinger Refreshement Stand #402 is all wood and usually found with the tree missing.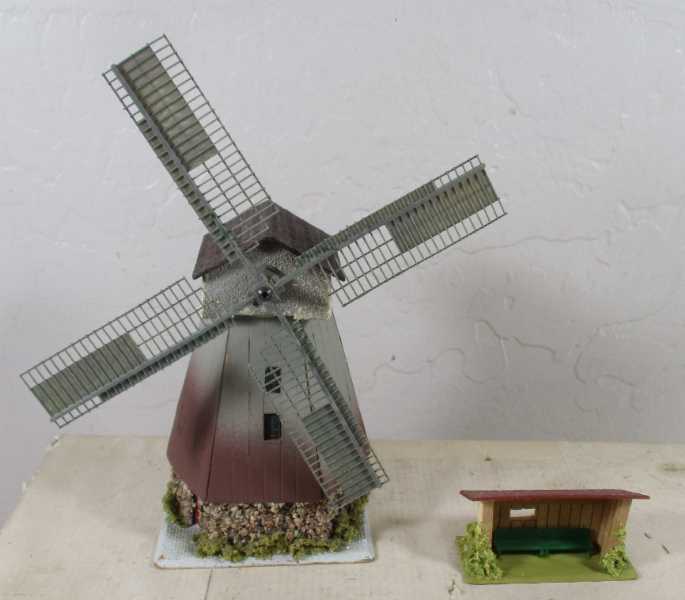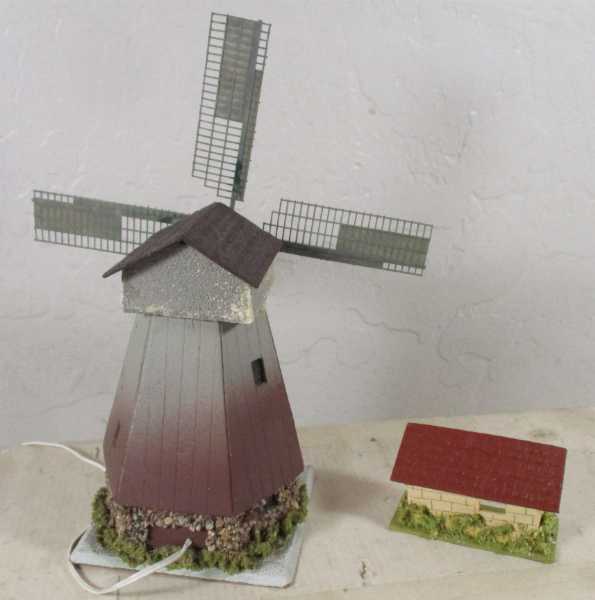 Faller 233 Operating windmill. This is wood with a plastic sails. The 233 is motorized. This type was made 1953-59.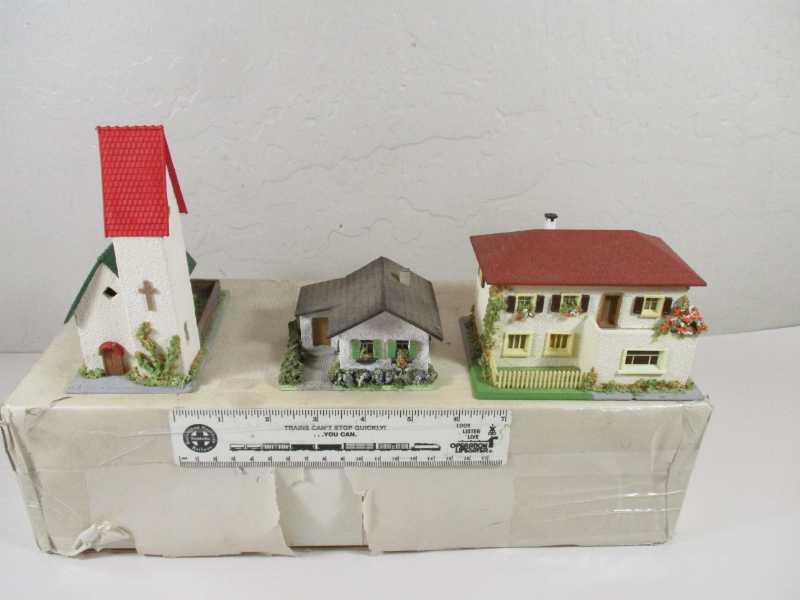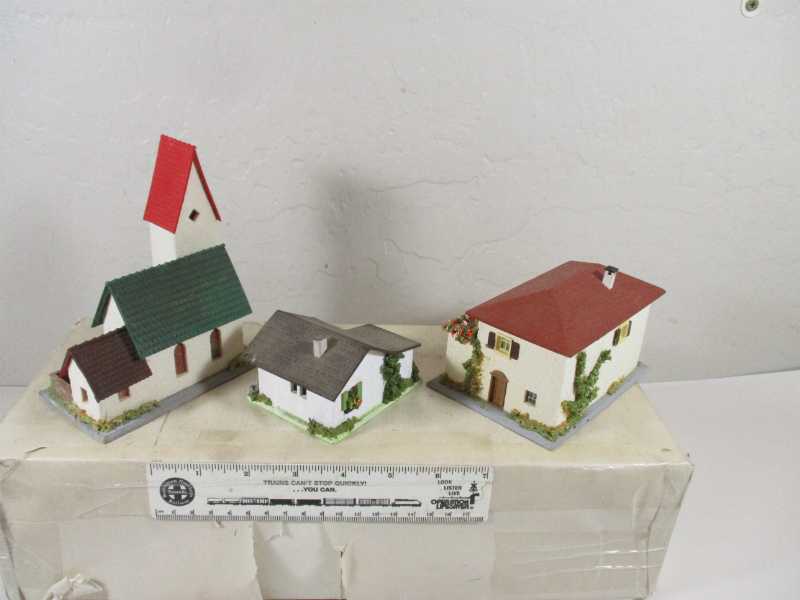 Faller 236 Church. This is wood with plastic roofs and doors. Faller made many different churches so all denominations could be represented. This was one of the cheapest churches.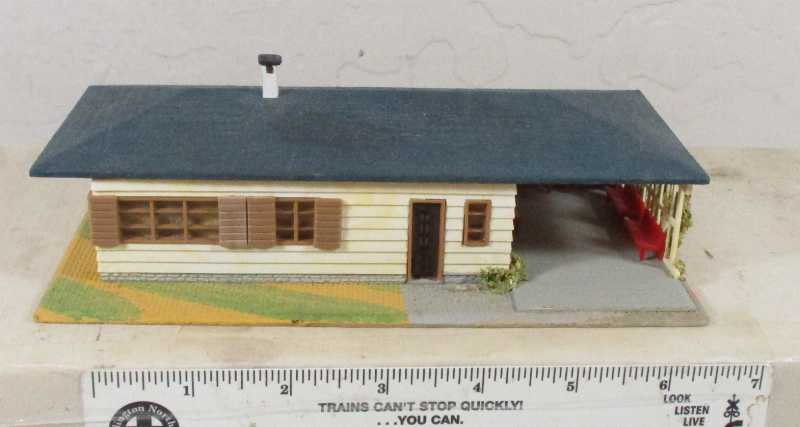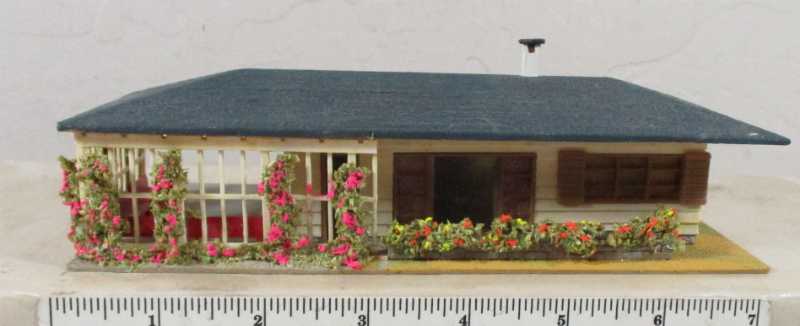 Faller 261 Ranch house with carport. Mostly plastic construction but for base and roof.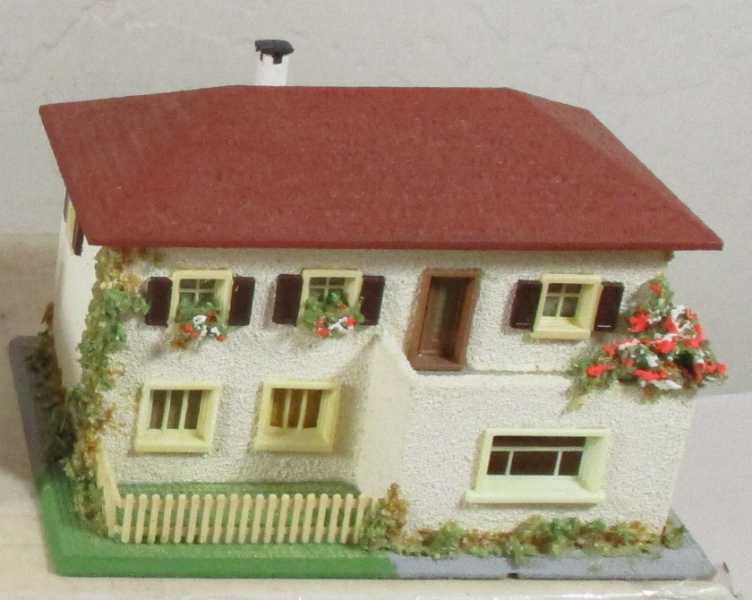 Faller 269 House with deck. This is wood with plastic details. Shown in the 1955 catalog. This house makes no sense. There is only one door on the first floor. The rear of this house is shown with the 236 church.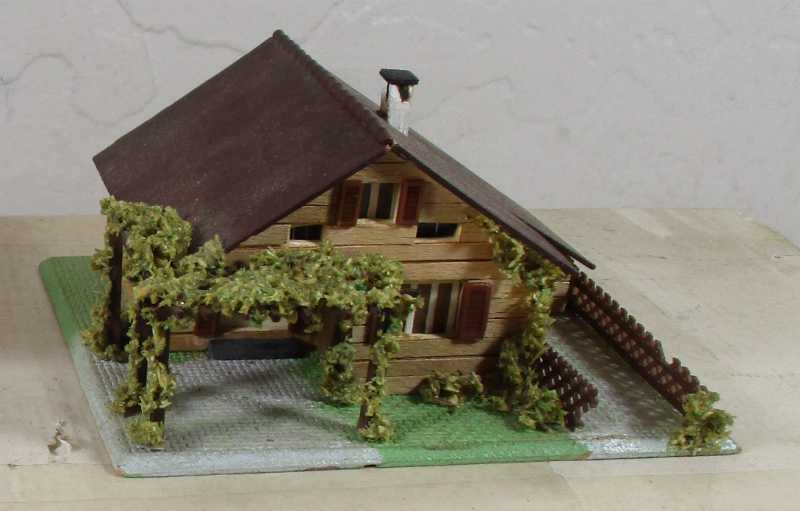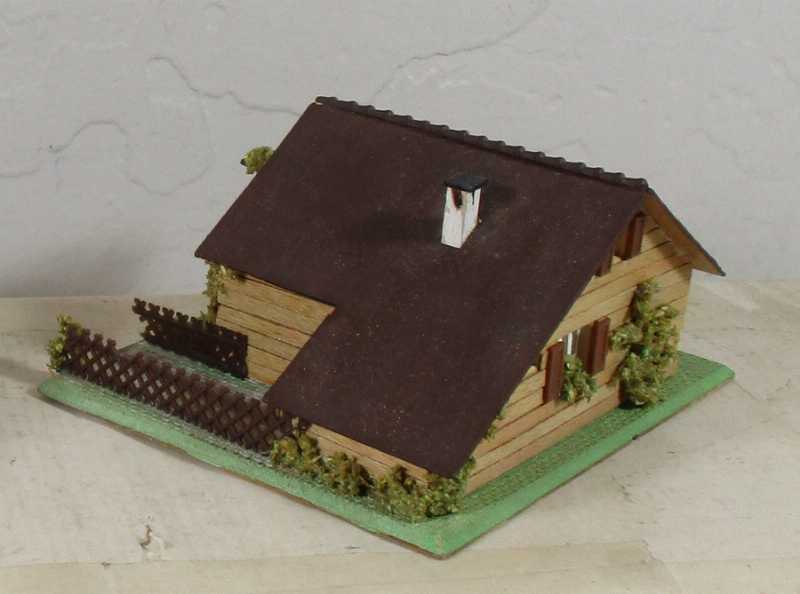 Faller 281 Small Chalet with brown roof and wood sides. The fence, shutters, and trellis are brown plastic. The rest is wood.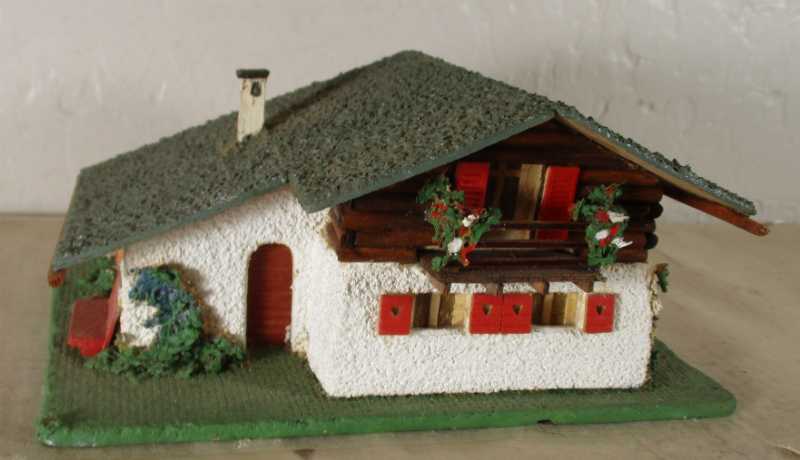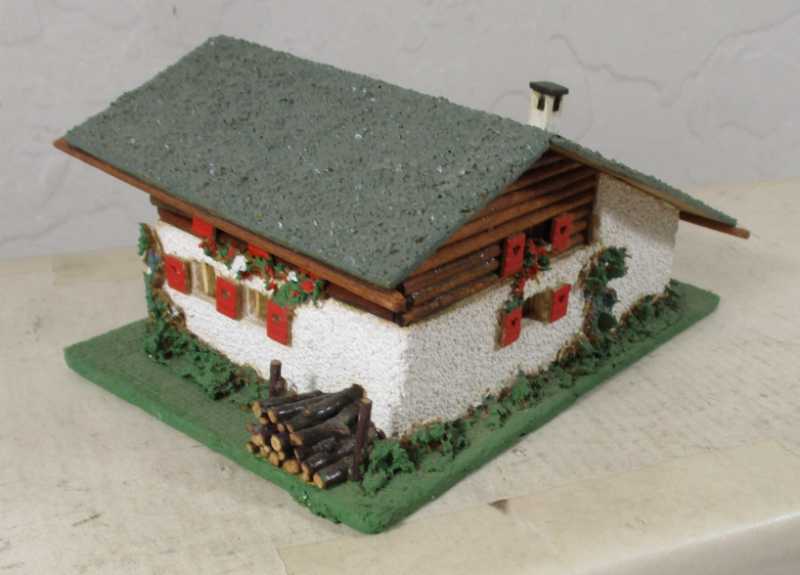 Faller 287 Chalet with grey roof and timbered upper story with front balcony. I think they call this look "Half-timbered." This has no plastic parts.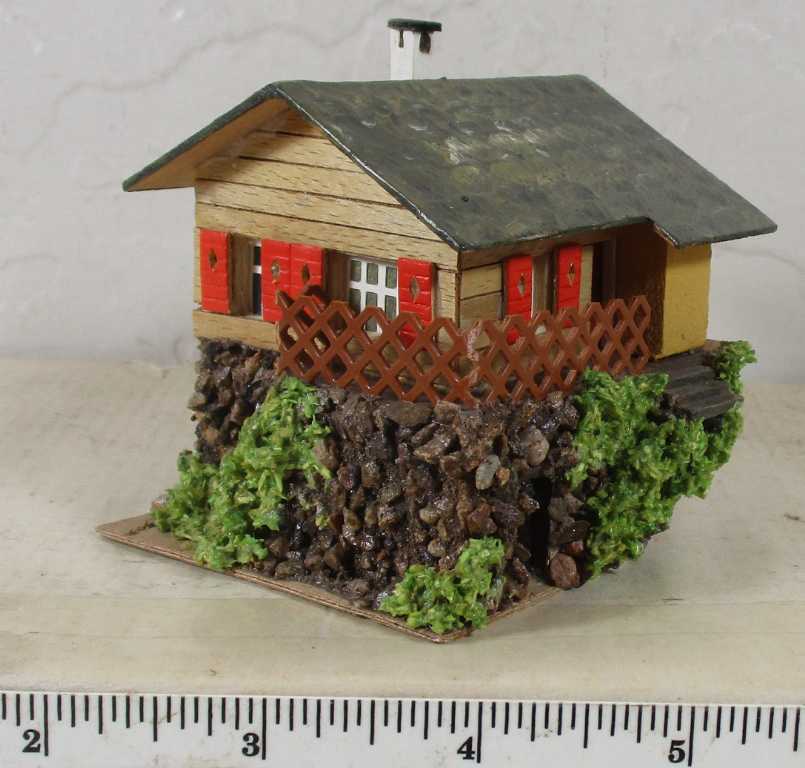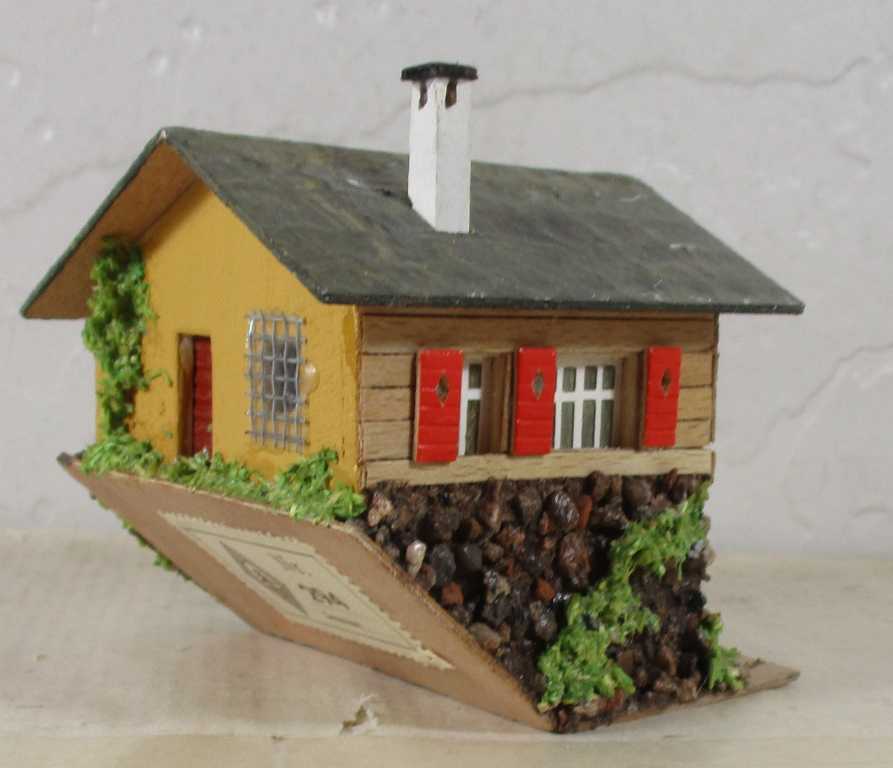 This is a neat building. It's designed to be placed on a mountan slope. This version has no plastic. The balcony railing looks to be bakalite or another early insulating material repurposed. This is one of my favorites.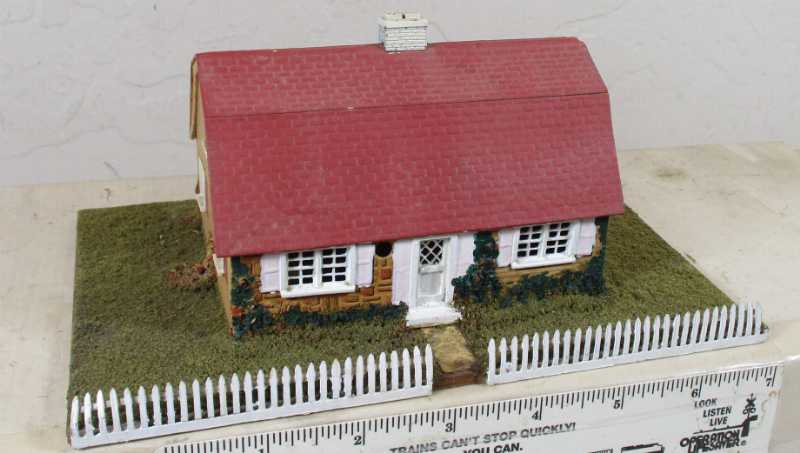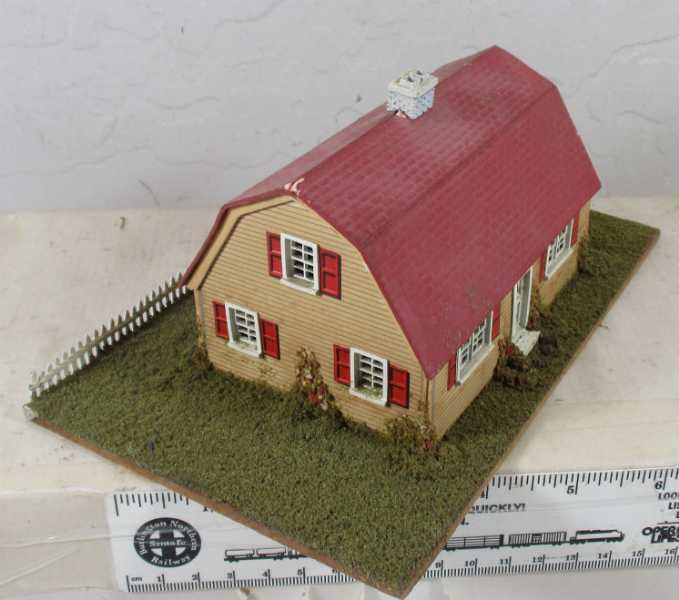 Unknown Barn like house. Wood construction but for doors, windows and chimney. No label and has different kind of wooden base and lights so might not be a Faller building?
Unknown House or Chalet with brown roof. This is all wood and is different enough from the Faller buildings that it might be from another maker. This is shown beside the 236 church above.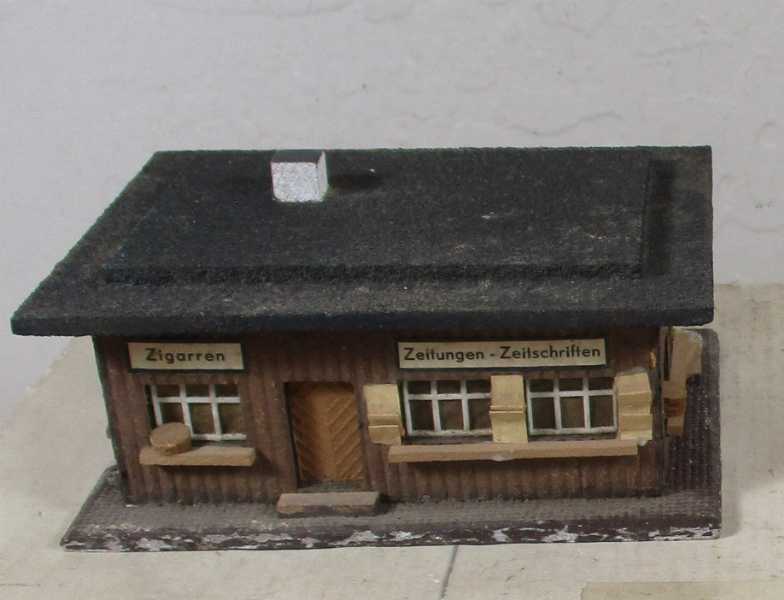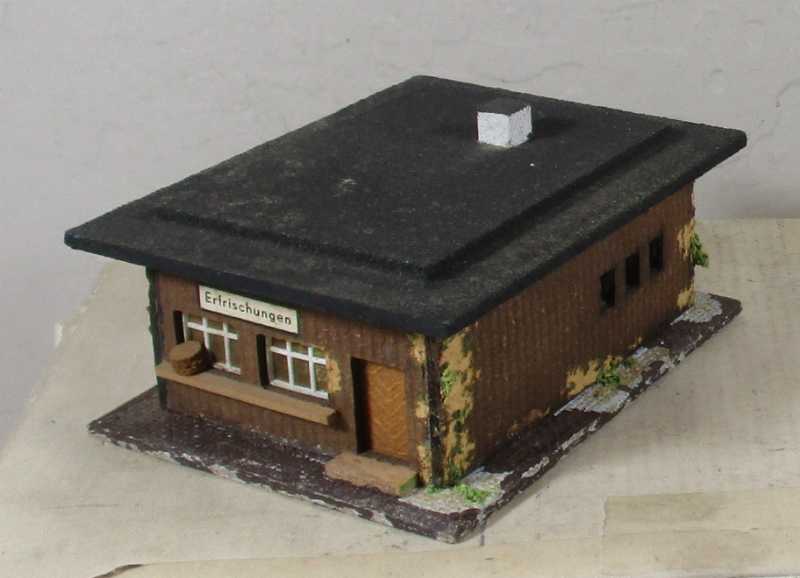 Creglingen Small Newstand. This is all wood and paper. Base says "August Flor Creglingen." based on the ebay selling prices these are very desirable buildings. At one time I had a bunch of these and sold them. I regretted selling them, so I started keeping some of the interesting Faller buildings I found. The Faller Buildings are much cheaper.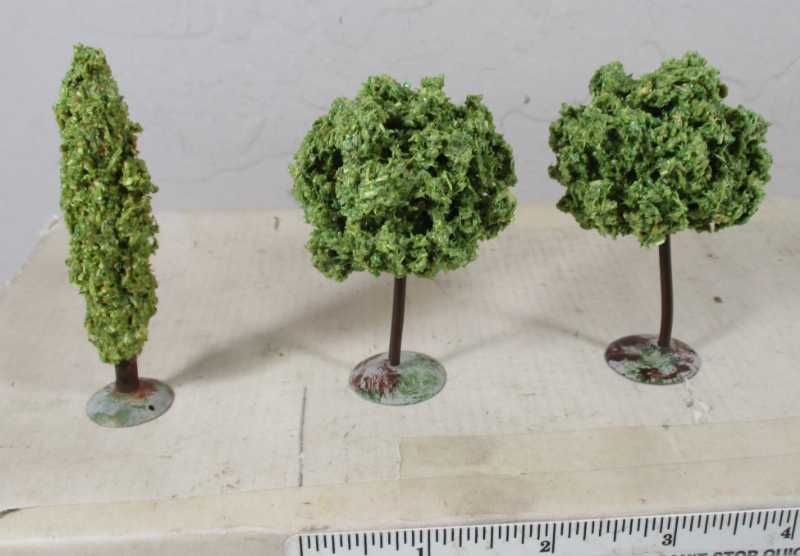 Faller trees with metal bases. Catalog numbers for these are in the 350-395 range. Most of mine have prices written on the bottom so they don't seem to be from sets. I found these in the 1955 catalog.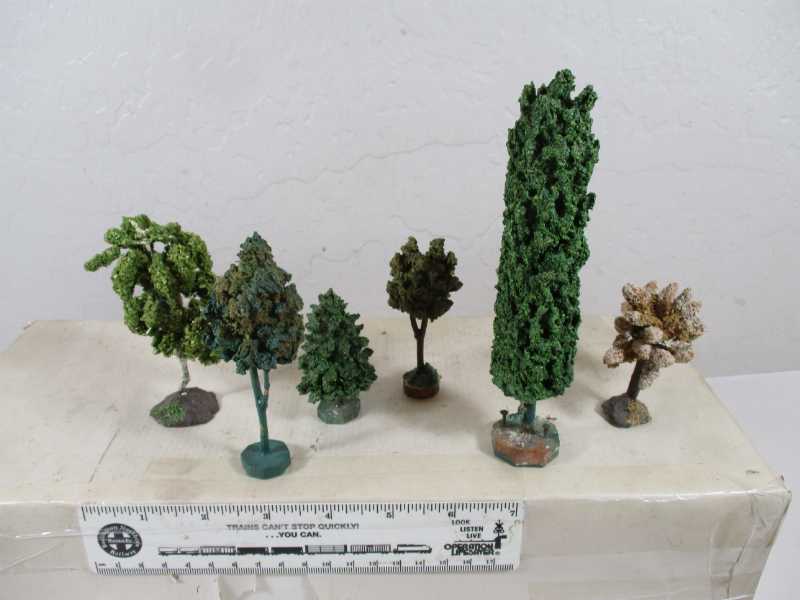 Here's some other tress. These might be early Faller trees or maybe they are Creglingen,Vau Pe or another postwar german maker.
Here's a page with scans of old Faller Catalogs