The 815 tank car was introduced in 1926 and was cataloged through 1942. Supposedly the first cars were pea green with maroon frames, but the car I had was a later car from about 1932/33. In 1927 the frame color changed to black and continued to be black for the rest of the cars run.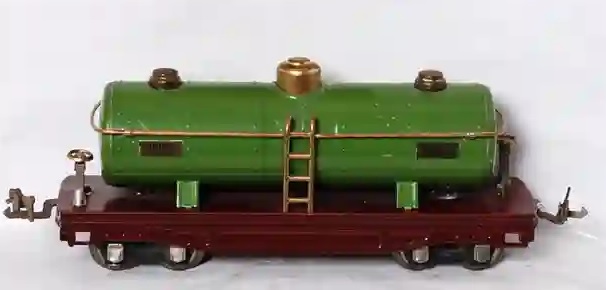 Until 1934, the car was pea green. In 1934, the color was changed to aluminum. Cars with brass trim and latch couplers can be found with or without the Sunoco decal. Cars with box couplers, made in 1936 and after, always have decals.
Warning: the aluminum paint is very thin and improper cleaning will result in paint removal. The 815 was not made with a type 4 frame. There are reports of orange Shell cars with 815 plates but all of the ones I have examined – about a dozen – show evidence of being taken apart. It would be easy to create a orange Shell 815 by changing the number plates and trucks on a 2815.
| | |
| --- | --- |
| 815 Pea green. | 815 Aluminum, Sunoco decal. Brass trim. This car comes with or without the decal. |
| 815 Aluminum, Sunoco decal. Nickel trim. This car always comes with the decal. | 2815 Orange, Shell. |
The 2815 was introduced in 1938. It is the same as the 815 but has automatic couplers. The 2815 was made in Aluminum until 1939 then was changed to orange with a Shell decal. The decals were a revenue source for Lionel. The oil companies paid to have their name on the car. The Shell car was made in 1940 only. The Train Collectors Association book on Lionel lists the orange car as coming with nickel plates or decals for the number data, but I have never seen a tank car without number plates.
The 815 and 2815 tank cars were not produced after 1940. If they were made they would be gray with SUNX decals. In 1941 Lionel changed the tank car decals back to Sunoco. Sunoco stands for Sun Oil Company. No original gray 800 series tanks are known.
The pea green tank with the maroon frame is the hardest tank to find. The orange 2815 is next. The pea green with black frame and aluminum cars are common, but it is difficult to find aluminum cars in nice shape.