This is an interesting toy train layout. I have no idea who the owner was. Based on the trains in the pictures the trains were between 1916 and 1918. There are three pictures of the layout set up one way and one picture of the layout in another configuration.
What Makes This Layout Interesting?
This layout shows two Lionel 820 Boxcars. Both are dark green cars with Santa Fe lettering. These cars are extremely rare – very few dark green boxcars survive today. Maybe a dozen, probably less.
Here is some young man with two of them. He also has two Lionel 700 series locos. The engine in the top photo is probably a Lionel 706 from 1916. (When enlarged the loco seems to have a reverse handle on it. Added 2020 – when I wrote this article I didn't have the earliest version of the 154. The 154 from 1917 is much commoner than the 706, and would look the same in these poor pictures. )
In the picture below you can see both of the dark green boxcars and a 706/154 loco. The other cars are IVES cars. Note the interesting stockyard.

In the photo below you can see a wonderful top of the line IVES 1125 steamer pulling a bunch of lithographed cars. The tunnel in the background may be an early version of the Lionel 118 tunnel, but is probably a German import.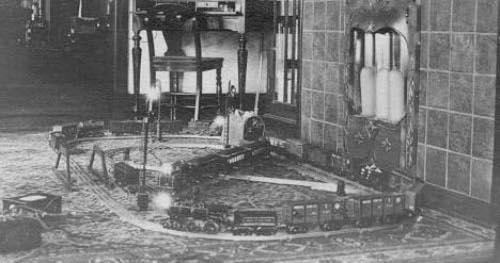 The picture below shows the Lionel 154/706 loco in the foreground and another Lionel 700 series loco in the middle. The second Lionel 700 series loco is also a 154 or 701 or 706 because the mounting screws holding the cab to the frame are verticle. This engine is pulling two 610 pullmans and a 602 baggage car.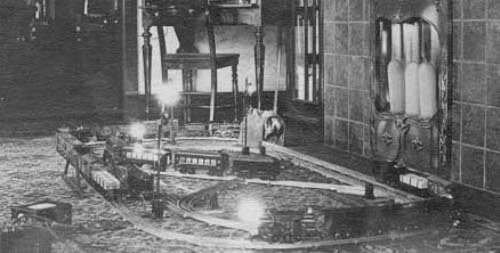 Below is a picture of the trains set up in a different layout.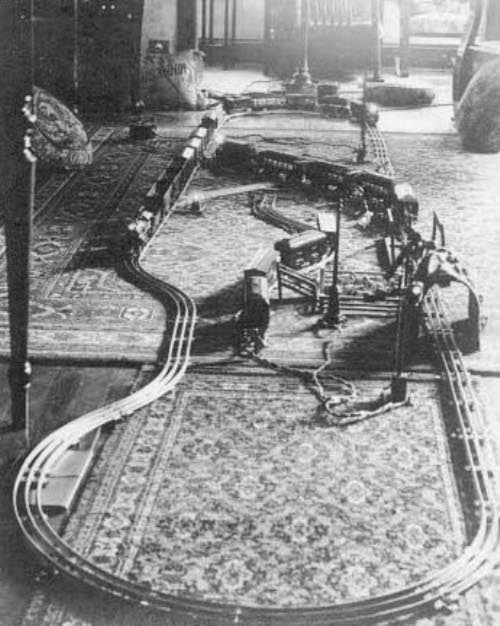 Just looking at these old pictures, you can tell the family was well off. There is about $60 dollars worth of Lionel Trains on the layout. That's in 1916 prices. The IVES trains and the accessories would bring the total spent by the family to put together this setup to over a hundred dollars.
Back then a hundred dollars was a lot of money. The average income for an industrial worker was less than $5.00 per day. Other workers made less.
I bet the family really enjoyed their trains.