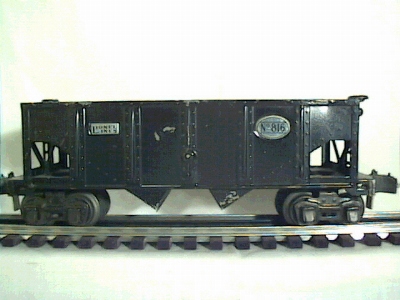 The 816 hopper car was introduced in 1927. It came in Olive green until 1930 when the color changed to red.
There are many different shades of red cars. Notice the third car on line one above is a darker red. This is almost a tomato or blood red car. These cars are believed to have come only in the 1936 freight set pulled by the 250E Hiawatha locomotive. I don't know if that's true or not but they are very hard to find. Not as hard to find as the black cars but still quite difficult to find. And if you're into the obscure, the blood red cars can be found with engraved or silk screened plates. Engraved plates have the lettering inset into the plate, silk screened letters are slightly raised.
The hopper stayed red until 1940 when the color changed to black. The black 816 with nickel plates is the easiest to find of the 1940 notch cars in rubber stamped colors with nickel plates. It is still very hard to find though. The 1941 Hopper cars were black with rubber stamped lettering. This is the hardest to find of the 816 hoppers and the 800/2800 series cars. In fact, the black hopper with heat stamped lettering might be the rarest prewar Lionel O gauge freight car.
The 2816 hopper is the same car as the 816, but has automatic couplers. The 2816 came in red with nickel plates and in black with rubber stamped lettering. The black 2816 has not been seen with nickel plates. The black car is harder to find than the red version.
The 816 with rubber stamped lettering is the hardest hopper to find. Next is the black 816 with nickel plates, then the blood red 816, then the black 2816. The other red cars are quite common. The olive car is a bit harder to find than the red cars but not by much.
| | |
| --- | --- |
| 816 Olive green. | Reserved for 816 red/brass. |
| 816 Dark red. Nickel trim. | 2816 Red. |
| 816 Black. Nickel plates | 2816 Black. Rubber stamped lettering |