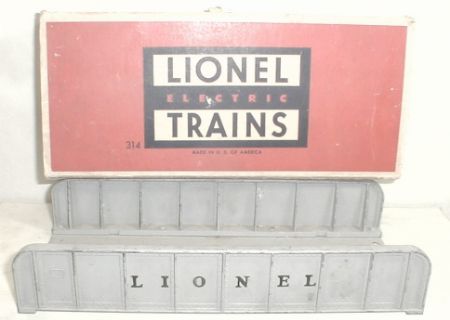 Lionel Introduced the 314 Plate Girder Bridge in 1940. It was made originally in aluminum, and then the color changed to gray in late 1940. After the war, production continued in gray.
Most of Lionel's accessories changed from aluminum to gray in late 1940. The story is the aluminum paint was in demand for the war effort and gray was cheaper. Gray is also a more forgiving color. It covers better.
A lot of sellers will use the war story to make their gray 314 girder bridges more desirable. The aluminum 314 bridge is harder to find than the gray one.
There are at least 10 gray bridges for every aluminum one. Gray being more common is true for both the 314 and 316 bridges. The 315 trestle bridge with a light is harder to find in gray.