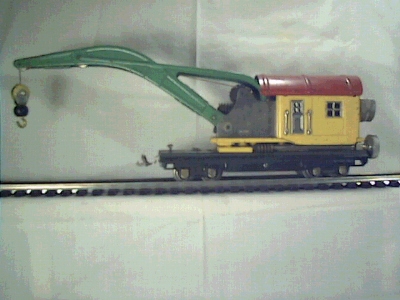 Lionel introduced the 810 crane in 1931. It was cataloged until 1942, but wasn't made after 1940. The crane had three knobs: one to raise and lower the boom; one to raise and lower the hook and one to swivel the cab. There was also a clip to attach the crane to the track during operation so it wouldn't fall over.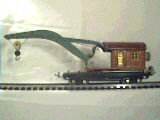 Until 1934 the crane came in the terra cotta color scheme. In 1934 the color was changed to yellow with a red roof. The first yellow cranes came with a darker green and darker red colors than the later cars. These earlier yellow cranes also had brass trim rather than the later nickel.
The 1934 810 crane with mixed trim is the hardest to find but the Lionel 2810 crane with operating couplers and dished frame is the most sought after.