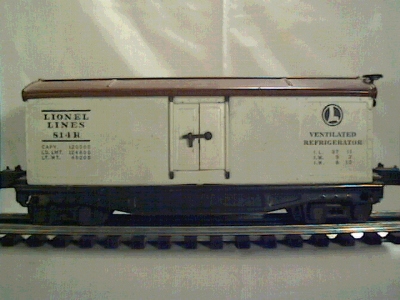 Lionel introduced the 814R refrigerator car in 1929 in the ivory and peacock color scheme. Because this car was not made in 1926 no short wheel base cars exist.
In 1934 the color was changed to white with a light blue roof. The white and blue cars were made until 1940, when the flat white and tuscan cars replaced them. The first run of flat white cars had nickel plates- not shown, but I'll add a picture as soon as I can buy or borrow one. The rest of the flat white/tuscan cars had rubberstamped lettering.
The flat white/tuscan 814R with nickel plates or with rubberstamped lettering is the hardest reefer to find. Both version of the flat white car are among the hardest Lionel 800 series cars. Personally, I think the one with nickel plates is harder because I have a rubber stamped one.
The other refrigerator cars are common with the exception of the cars from 1934 and 1935 with mixed trim.
While many collectors get excited about the aluminum frame cars, they are no more difficult to find than the earlier black frame cars.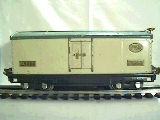 Lionel 814R Ivory sides, peacock roof, black frame. Brass trim.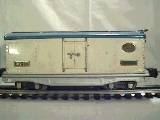 814R White, light blue, aluminum. Brass trim. 1935 notch car.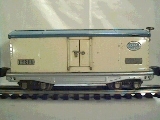 814R White, light blue, aluminum.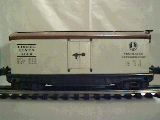 814R Flat white, tuscan, black. Rubberstamped lettering.
Lionel added remote control couplers to the reefer in 1938 and sold the resulting car as the 2814R