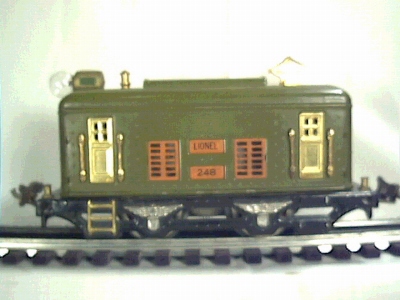 The 248 was introduced in 1927 and cataloged through 1932. This was Lionel's smallest electric engine, and never came with a reverse. The 248 is 7 3/4 inches long- not including couplers.
248 Orange, Brass Number board, Strap headlight.

248 Orange, Painted Peacock Number board, Die Cast Light.

248 Dark Green, Maroon, Die Cast light. Uncataloged.

248 Red, Cream,

248 Terra Cotta, Yellow No handrails by doors. Uncataloged.

Photo not available.

Same as Terra Cotta but WITH handrails. Uncataloged.

Olive Green, Orange. Uncataloged.

248 Peacock, Orange. Uncataloged.
The dark green and orange versions comes with a strap or diecast headlight. The terra cotta engines without handrails are the result of Lionel using up cabs they made for Ives. In 1930 and 1931, Lionel owned Ives and produced Ives trains in their factory. One of the engines featured the 248 cab without handrails on an Ives frame. Lionel also used some of these cabs without handrails on the terra cotta 248.
Sets: This engine came in sets with the small 800 series freight cars and with the 529/ 629 passenger cars. The early orange engine with brass plates came in sets with the early bodied 603 and 604 passenger cars. The terra cotta locomotive did not come with passenger cars but Lionel made 529 and 530 passenger cars in terra cotta with maroon frames that most collectors put behind this engine. The terra cotta cars came in sets with the terra cotta 252 and the early hand reverse 259 steam locomotive.
Rarity: The red and orange colors are the easiest to find. The other colors are all difficult to find.