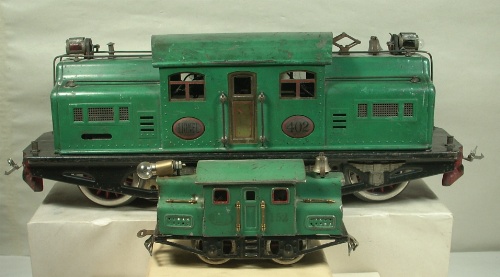 Lionel introduced the 402 electric locomotive in 1923. In 1926 the 2-position e unit was added and it became the 402E. It was only available with an automatic reverse in 1928 and 29.
The 402 replaced the 42 as Lionel's largest standard gauge locomotive. The first version had stamped steel lights with on/off switches. Later locos came with diecast headlights. All 402E locos came with cast headlights.
The 402 is found with at least three versions of the numberplate – all black lettering, black center with red outline, and all red lettering. (Supposedly red lettering was only used on locomotives with e units, but the 402 is an exception.)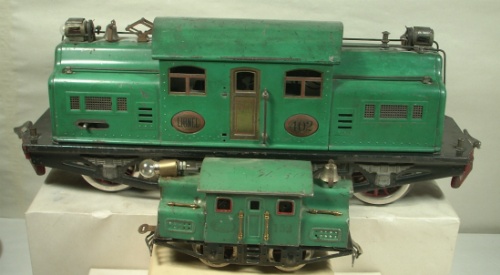 This loco was was only cataloged in mohave, but was made in other colors. I've heard of peacock, mustard brown, dark gray, maroon and red are colors.
The odd colors could be paint samples or special orders. Before 1929 Lionel would paint any item in any
regularly used color as a special order. Lionel service order forms show this option.
Shown here in peacock, this locomotive dates from 1923-25 based on the lights and the red border on the number plates.
This blue 402 is filthy. The color looks off because it has a coat of oil residue. This is commonly seen on trains stored unpacked in basements with coal or oil burners.
Here's a picture of the 402 with a peacock 152 inside it for a color comparison. The peacock 152 is also an odd colored locomotive.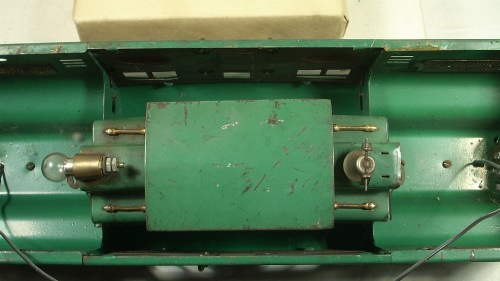 I'll put pictures of my mohave 402 loco up here in the future.