0017, 0027, 0047, 0047K and 0077
Lionel 00 cabooses were offered in both scale (0017 and 0047) and semi-scale versions (0027 and 0077). The 0017 and 0027 had three rail trucks while the 0047 and 0077 featured two rail trucks. The 0047K was a kit version of the two rail tank car.
Two rail cars would run on either two or three rail track, but three rail cars would cause shorts on two rail track.
The semi-scale versions did not have a smoke stack. The earliest versions of the 0017 caboose had maroon painted roof walks and PRR lettering. Later versions had NYC lettering and all red roofs. The other numbers of the caboose are found only with NYC lettering.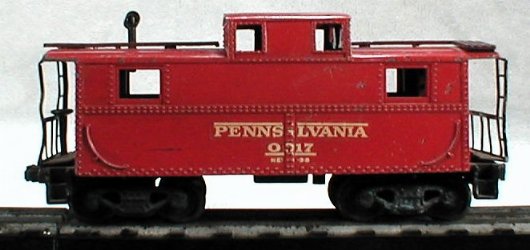 Lionel 0017 PRR caboose with maroon painted roof walks.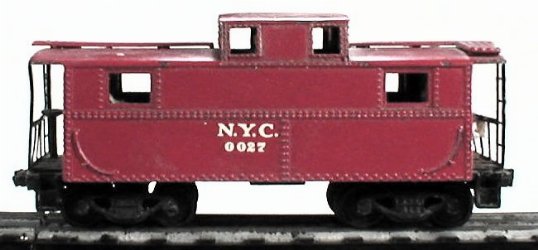 Lionel 0027 caboose with decal on left.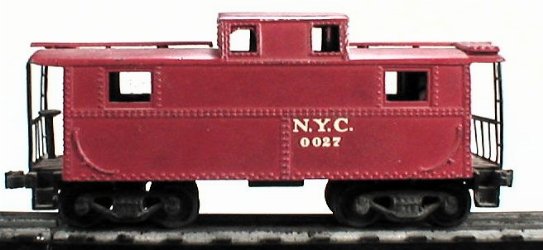 Lionel 0027 caboose with decal on right- note position of brake wheel and tool box. This may be a factory error.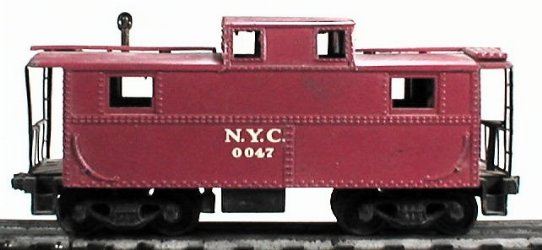 Lionel 0047 caboose. This is a scale version with a smokestack. Many cabooses are found today missing the stamped sheet metal top of the stack.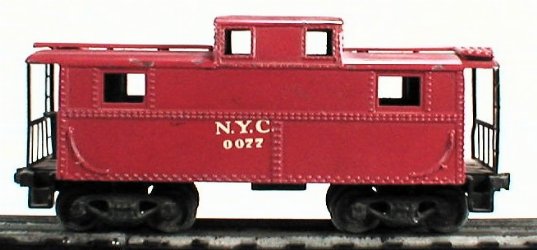 Lionel 0077 caboose.