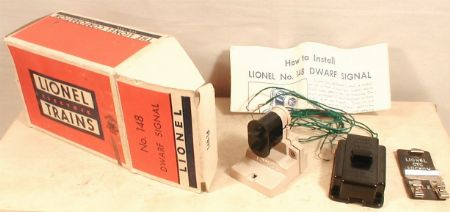 The Lionel 148 dwarf signal was made from 1957 to 1960. The signal has manual operation and uses a special 148-100 control switch.
When the 148-100 is in one position, the signal light is green and current is on to the block section.In the other position the dwarf signal shows red, and track current is off.
These didn't sell well, and are somewhat hard to find today. Especially in nice condition like the boxedone shown above.
Copies of Lionel 148 dwarf signal were made in the late 1970s by a man in Nevada of cast metal. The Lionel postwar dwarf signals are made of plastic.
Both Lionel and MTH currently offer similar dwarf signals. This has caused a large drop in the value of postwar examples.