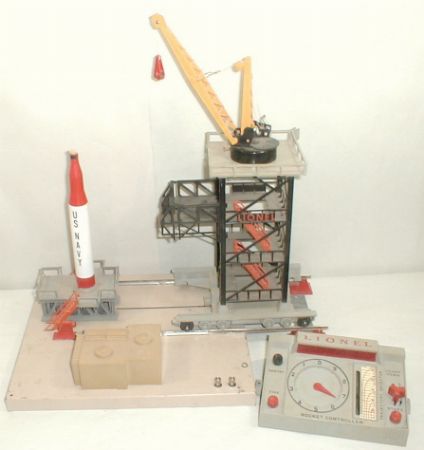 The 175 rocket launcher is the largest of the space and military items Lionel made in the late 1950s.
These are quite common, but the railings around the top of the superstructure and around the rocket launching platform are usually broken. Replacement railings and rockets are available.
The rocket launcher was designed to be used with the Lionel 6175 flatcar with rocket, but the car was not included with the launcher. When the launcher was included in sets, the car was also a part of the set.
The operator could lift a rocket from the 6175 flat car and then position it on the firing platform. The countdown controller would count down, and then fire the rocket into the ceiling.
After a few firings, the rocket would break. Usually the break is in the white portion.
Reproduction rockets are made of better quality plastic and hold up longer.