Lionel introduced the 3356 operating horse car and corral set in 1956. It ran until 1960 when it was dropped from the catalog. It reappeared in the catalog in 1964, and ran through 1966. There are no variations.
The horse car and corral are used together. When the car is positioned as shown above the doors open and horses go in and out of the car. This accessory works much better than the earlier 3656 operating cattle car.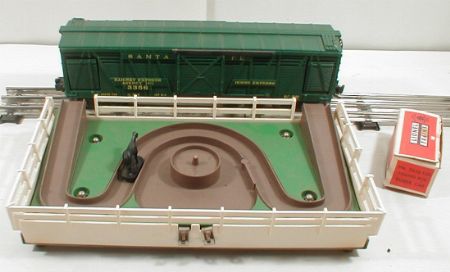 The corral was offered separately as a replacement item. The box for just the corral is worth more than the entire set. The rare box says 3356-150 and holds ONLY the corral. The 3356 box that holds both the car and corral is quite common.