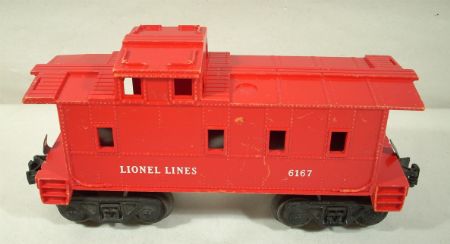 The Lionel 6167 caboose comes with or without lettering. The lettered versions are always red.
Unlettered versions come in red, yellow, brown and olive. Olive is the most desirable of the unlettered 6167 cabooses.
The lettered caboose was made in unpainted and painted versions. The painted versions come on different colored molds, but are always painted red. I've seen black, olive, orange, red, and gray molds painted red.
Black, red, and olive molds painted red are quite rare. Orange and gray are more common. An orange mold painted red is shown below.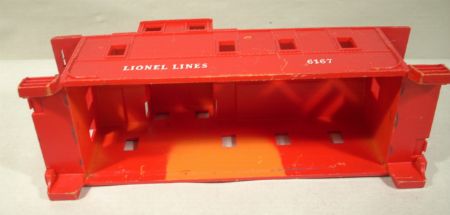 The painted 6167 cabooses have an unpainted area inside where the body was held during painting. This is easily visible without taking the shell off the frame.