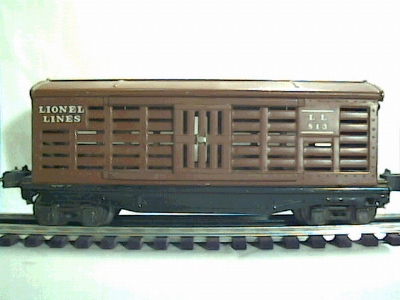 The Lionel 813 Cattle car was introduced in 1926 in orange with a pea green roof.
In 1935, the color changed to cream and maroon. The cream and maroon car can be found with brass trim (harder to find) or with nickel trim.
In 1940, Lionel removed the nickel platesfrom the car and changed the color to tuscan with white rubber stamped lettering.The rubberstamped 813 is the hardest stock car to find; it is also one of the hardest regular production cars to find. Perhaps only 40-60 cars exist.
Here's a guess as to why these cars are so hard to find: all of the cars I have examined-five- have holes in the ends. These holes are from the stamping dies, and correspond with where the embossed rivets should be. The rubber stamped cars are made of thinner galvanized metal, rather than the thicker tinplated metal used on the earlier cars.
I am guessing here, but perhaps the dies used to stamp the cars deformed the thinner metal of the car sides so that only a few of the stampings were useable? It would require a lot more pressure to stamp the slats in the car than to stamp rivet detail in the car ends.
Or, maybe Lionel had lots of cream and maroon cars in stock and didn't start making tuscan cars until the war had started? I don't know, but whatever the reason this is one rare car.
Some books say the rubber stamped 813 stock car is the rarest Lionel 800 series car. It's not. The white/brown roof 814R reefer with nickel plates and the 816 black with rubber stamped lettering are both much harder to find.
The rest of the stock cars are easy to find with the orange and green car being really common. The 813 stockcar is the most commonly found short wheel base car. It is so common it won't even bring a premium price over the normal wheelbase cars.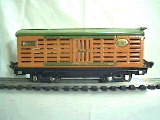 813 Orange sides, pea green roof, Brass trim.
This is a 1926 Short Wheel Base car.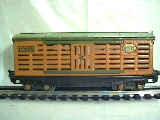 813 Orange, pea green, brass.
Compare door handle on this car to larger handle on car above.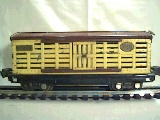 813 Cream, maroon, brass.
This is a 1935 car with mixed trim.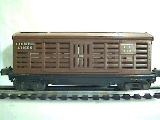 813 Tuscan, rubber stamped lettering.
In 1938, Lionel added remote control couplers to the 813 stock car and introduced the 2813.