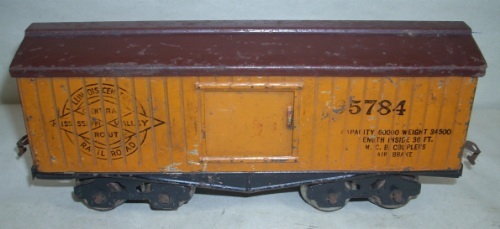 The 820 Box car was introduced by Lionel in 1915. The first runs of cars were yellow-orange with brown roof as shown above. Few of these brown roof cars were made, and they are very rare. Some guides say the roofs were produced in brown and maroon, but I've never seen a maroon one.
The brown roof 820 is much rarer than the brown roof 4 wheeled 800 boxcar.
After a few brown roof cars were produced, Lionel changed the roof color to match the body.
Cars were produced from 1916-26 in yellow-orange and in a darker shade of orange. Both shades of orange cars had Illinois Central or Union Pacific road names. There are quite a few variations of the lettering on the orange cars.
Sometime in 1916 or 17 Lionel made a run of dark green 820 box cars lettered for Santa Fe. My dates are based on a photograph of trains running under a Christmas tree that shows two dark green cars that is
dated December 1917 on the back.
The dark green car is worth more than the brown roof car, because it's more widely known. The all orange cars are quite common and relatively cheap.
Any box for these cars is harder to find than the car itself, and if in nice shape with all flaps, will bring more than the car.
I'll add pictures of the other colors of The Lionel 820 boxcar in the future.
Note: The number 820 was also used on a floodlight car made by Lionel in the 1930s.