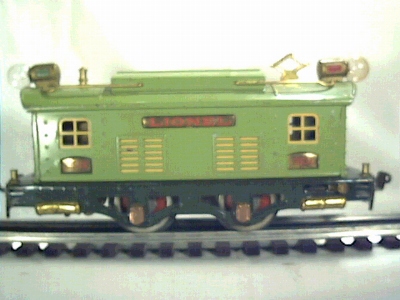 The 253 was introduced in 1924, and cataloged through 1932. The 253E with electric reverse was introduced in 1931 and ran through 1936. The engine is 9 inches long- not including couplers.
| | | | |
| --- | --- | --- | --- |
| 253 Dark Green | 253 Mojave | 253 Peacock | 253 Peacock orange stripe |
| 253E Stephan Girard green, dark green frame. | 253 Terra cotta, maroon frame | 450 Red. Special for Macys | 450 Stephan girard green, dark green frame. Special for Macys |
The mojave, dark green and maroon engines come with strap headlights. The dark green comes with orange inserts and die cast light. The other colors come with die cast headlights. The frame on this engine can have two hand reverse slots or one. The E locomotives can have the E engraved on the plate or rubber-stamped on the side of the engine.
Sets: The early strap headlight engines came in sets with matching early 610/ 612 passenger cars. The peacock and two tone green engines came with 607/ 608 passenger cars. The terra cotta engine came with the 613 series passenger cars in sets without baggage cars. The 253 also came with the large 8 wheel 800 series and the small 4 wheel 800 freight cars.
Rarity: The peacock and two tone green engines are the easiest to find. The maroon, gray, pea green and red engines are very hard to find. These are not shown because I need to get pictures from other collectors. The 450 engines made for Macys's are also hard to find.