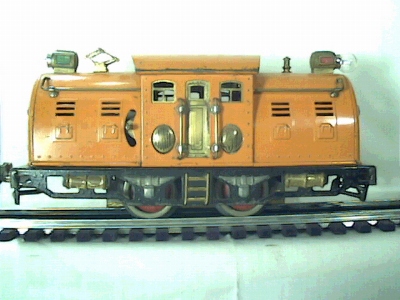 The 254 was introduced in 1924 and was cataloged until 1932. The 254E with a two position pendulum reverse was introduced in 1927 and cataloged until 1934.
The 4U was cataloged from 1928 through 1932. The 4U came with components to convert the motor to a stationary motor. Teh 4 only came in gray and orange.
These engines are 9 1/4 inches long- not including couplers. 254E locomotives can be found with an E rubber stamped on the door or engraved on the number plate.
| | | | |
| --- | --- | --- | --- |
| 4U Orange. | 254 dark green. | 254 Mojave | 254E Pea green, orange hatches and stripe. |
| 254 Olive green, maroon hatches and stripe. | 254 Olive. Untrimmed replacement cab mounted on 254E frame. | 254 Orange. This is an export engine and has 254 plates but is actually a 4U body and motor. | Stationary motor constructed with 4U parts. |
Pea green and olive green engines can be found with or without painted hatches and stripes. Also the olive green and pea green engine can be found with colored celluloid behind the ventilators.
The 254 was also made in red and apple green. The 254/4 was exported to Europe to get rid of the extra 4 bodies after the 4 was discontinued. Both gray and orange versions were exported. The export engines can have 4U or 254 plates but always have "Made in US of America" rubberstamped on the inside of the engine.
There are three variations of the body stamping of the 254. There can be one or two hand reverse slots. The earliest engines have one hand reverse slot, or two diagonally opposite reverse slots. Later cabs have two slots both on the same end of the cab.
Sets: The 4 came in sets with matching 605/ 606 passenger cars. The dark green and mojave 254 came in sets with early 610/ 612 passenger cars. The mojave, olive green and pea green engines cam with late 610/ 612 passenger cars. The 4 and the 254 also came in sets with the large eight wheeled 800 series freight cars.
Rarity: The export engines are extremely difficult to find. The gray 4 is harder to find than any other engine except the export engines. The red 254 is the hardest color 254 to find. The olive green and pea green are the easiest to find.