This page has pictures of each style of loco and links to more detailed information for each.
Early Period O Gauge Electric Locos 1915-27
In 1915 began making the smaller 0 gauge trains. These run on track 1 1/4 inches wide between the rails. Three sizes of loco were made in 1915-17 These were the 700/150 small locos, the medium sized 701/154 and the large 703/156 locos. In 1918 lionel intr0duced and even smaller loco which became the 150 and later when sold without a headlight the 158.
Links will be added later
Lionel Classic Period O Gauge Electric Locos 1924-36
In 1924 Lionel introduced classic period electric engines in both the O and Standard gauge line. These engines featured added brass trim, and were usually brightly colored. Quite different than the earlier period engines that had very little added trim or ornamentation and were usually painted dark green or other dark flat colors.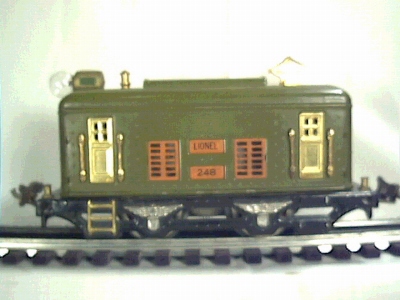 Lionel Prewar 0 Gauge 248 Electric Locomotive 1927-32