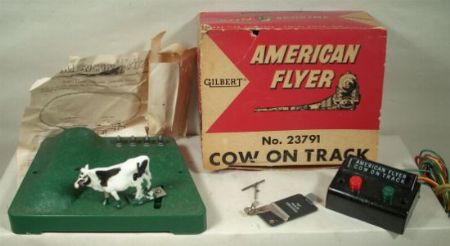 American Flyer made this interesting accessory for only three years. Catalog number 23791 cow on track.
The operator pushes the red button on the controller and the cow swings out over the track. The train stops before hitting the cow. When the green button is pushed the cow swings away from the track and the train starts up again.
Many of these when found are melted. There is a resistor under the green base that blocks off most of the current so the reverse unit won't cycle. If the cow is left over the track for long periods of time, the resistor gets hot and melts the base.