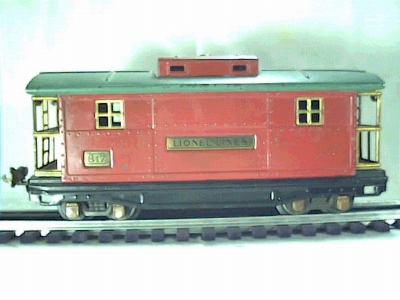 Lionel introduced the 817 caboose in 1926. The first version had peacock sides and a dark green roof.
The earliest versions came with short wheelbase frames, and are the hardest cabooses to find.
By 1930 Lionel changed the windows on the caboose from orange painted to brass plated.
In 1933 the caboose got a new color scheme… Red with peacock roof.
In 1934 the color changed again to all bright red. The earliest bright red 817 cabooses had brass trim and latch couplers. These brass plate cars usually have a slightly darker shade of red.
In 1935 the bright red got a little lighter, and nickel plates and end railings replaced the brass trim. This version is found with latch couplers or box couplers. By 1937 the nickel railings were replaced with aluminum painted railings. The box coupler version ran until 1940 and was then discontinued. A rubber stamped version was not made.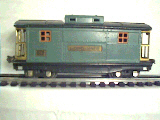 817 Peacock sides, dark green roof, orange windows.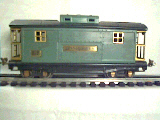 817 Peacock, dark green, brass windows.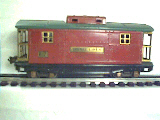 817 Red, peacock.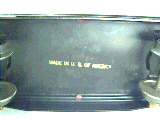 Bottom of caboose above showing export stamp. Only trains Lionel exported had this stamp. It's a collectible variation, but few collectors will pay a premium for export cars.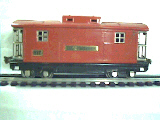 817 Light red, brass plates, nickel windows and railings. Latch couplers. 1934 notch car.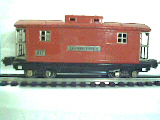 817 light red. nickel trim with painted railings and box couplers.
See also Lionel 2817 caboose for the automatic coupler version.